The cool and temperate West Coast climate lends itself to a variety of different micro- and meso-climates which, along with the different soil types, lead to unique grapes which we guide into even more unique wines. With approximately 95% of all our vineyards being Unirrigated (dry land) and roughly the same percentage being bush vines (i.e. not trellised), this is as close as one can get to what nature intended for grapes to be.

These varying factors result in wines that are true to the terroir from which they come and are true to the identity which we have crafted over time for our wines. Investment continues in the winery and cellar with some of the most modern and up to date winemaking equipment in our industry today.

A modern bottling line, new presses, a barrel maturation cellar, a new grape off-loading system and continuing replanting of vineyards, to include noble cultivars, all contribute to our advances in contemporary winemaking.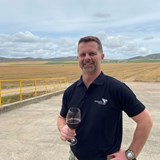 Darling Cellars extends a warm welcome to their new head winemaker André Scriven, along with his wife Mari and children, Izak and Mila.
read more »