Darling Cellars' Double Gold medals, of which only 39 were awarded to wine producers, were presented to the cellar's Lady Ann Darling 2017 blended white wine of Sauvignon Blanc and Sémillon and to its Gustus Chenin Blanc 2018. Golds went to the Arum Fields Chenin Blanc 2018, Lime Kilns 2017 blended white wine (Chenin Blanc, Chardonnay and Viognier) and the Sir Charles Darling 2016 red blend of Cabernet Sauvignon and Merlot.
This year's Veritas Awards was the most competitive in the competition's 28 year history, with 1 677 wines and brandies vying for medal status.
According to Pieter-Niel Rossouw, Darling Cellars' cellarmaster, Veritas remains the most important bastion for South African wine achievements.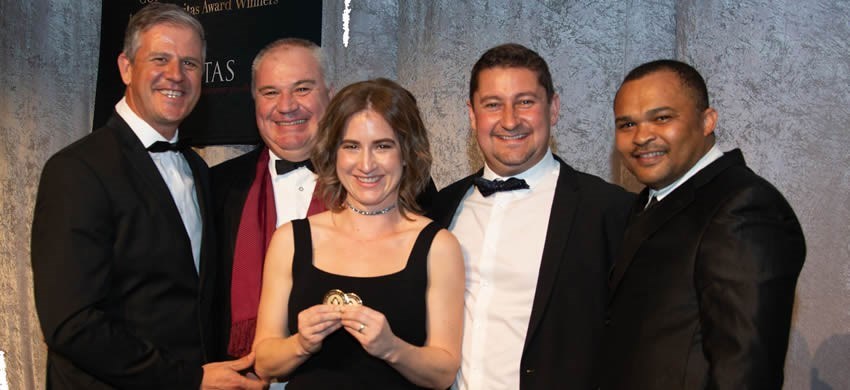 Christo Pienaar, left, chairperson of Veritas, with the team from Darling Cellars
"Over 28 years Veritas has grown into a powerhouse event, allowing wineries not only to present their wines to the scrutiny of strict judging to ascertain how we are matching up to our peers, but also affording achieving wines extra stature with which to market their products," he says.
"Throughout the years we have seen the weight a Veritas Double Gold or Gold sticker carries, giving these awarded products leading position in the South African wine market. We are on all accounts ecstatic at this year's results, especially as three of the awarded wines are from our new heritage range – Lady Ann Darling, Sir Charles Darling and the Lime Kilns. The Gustus Chenin Blanc is another new label in our stable, and this rejuvenation in wine styles appears to have found acceptance from the judges, while the exciting packaging will ensure the public of wines that not only taste good, but look appealing as well."
Darling Cellars is one of the Western Cape's older wineries with history going back to 1948. Sourcing a variety of grapes grown in the unique terroir directly affected by the nearby icy Atlantic Ocean of the Cape's West Coast, Darling has access to fruit originating from dryland vineyards including parcels which are part of South Africa's innovative Old Vines Project.
According to Rossouw, the unique terroir and the meticulously farmed vineyards are complemented by the co-operation between the grape-growers and the wine-making team at Darling Cellars.
"Our grape-growers are an integral part of our planning for each bottle of wine," he says. "Before the product has been developed, they understand what we are trying to achieve and thus employ their viticulture practices with the particular wine we in the cellar have in mind. Once the wine-making starts, the grape-growers are with us in the cellar, tasting along the way so that together we can create wines that truly reflect every nuance of the vineyard and the wine-making philosophy."
Rossouw says that this level of co-operation between grape-growers, the cellar-team and management is the result of a shared pride in the Darling wine region and a vision of creating a world-class range of wines. "We are never resting on any laurels," he says. "Between the winery and grape-growers Darling is always seeking to do things better and – when the occasion calls – differently and unique."
The Darling wines achieving Double Gold this year have elicited a lot of excitement at the winery, says Rossouw, as both wines are relatively new to the Darling Cellars' offering.
"We have become known for our Sauvignon Blanc due to the cool terroir and soil diversity, as well as the quality of fruit dryland farming gives us," he says. "The Lady Anne Darling for which we won Double Gold, is 50% Sauvignon Blanc and 50% Sémillon, our first foray into a wooded Bordeaux-style white wine. This being such a strong category in South Africa with legendary wines showing the same make-up, we are elated that the Lady Ann white blend managed to win one of only two Double Golds in such august company."
Despite Darling Cellars' reputation for Sauvignon Blanc, the Gustus Chenin Blanc 2018 grabbed attention at this year's Veritas, being the only non-wooded Chenin Blanc to win Double Gold.
"This was truly rewarding, and not only because Chenin Blanc is such a fashionable category at the moment," says Rossouw. "We worked hard at this wine, wanting to make an unwooded Chenin Blanc from selected grapes able to truly over-deliver in terms of providing a wine with length, complexity and palate-weight without a trace of wooding. Together with the farmers growing these grapes and the teams in the cellar and marketing office, we have no words to describe how honoured we are at this year's Veritas achievements."